RETURN TO INTRODUCTION
Comparison of Report Formats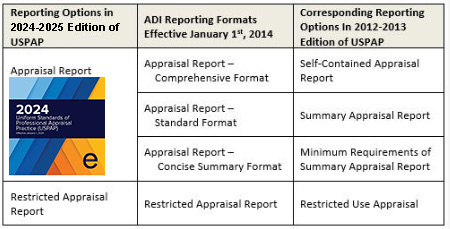 In recent years there have been a number of questions raised about what appraisal reports are to contain. For appraisers specializing in residential real estate the answer is provided by various form reports - both the appraiser and the client know which form is appropriate to the assignment and the work proceeds accordingly.
For commercial, industrial, and special purpose appraisals, such as the type our company provides, resolution of the report format is more difficult. Many appraisers and virtually all of the clients are confused by the allowable formats.
The substance of an appraisal report is dictated by the "scope of work" agreed upon between the appraiser and client. Then, the format of the report can be addressed either as a Restricted Report or an Appraisal Report, and further divided between "Comprehensive", "Standard", or "Concise" - these levels are presented by ADI to give the client more choice in the fee strucuture, while adhering to the USPAP guidelines.
While the property value reported does not change from report format to report format, the appraisal fee does tend to change. More writing takes time and ultimately time costs money.
For more information on the changes in format - and as a guide to the differences please see USPAP Q&A (PDF format)

RETURN TO INTRODUCTION